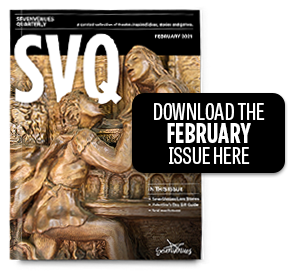 Welcome to SVQ - SevenVenues Quarterly, a curated collection of theatre-inspired stories, ideas and games. We have made a few changes to our downloadable, interactive booklets from previous editions that we would like to share with you.
SVQ will be now published once a quarter.
The core of the content is directed at our adult patrons and will center around theatre-related topics.
We will continue to include activities that parents can do with their children, as well as games and coloring art.
The first SVQ is focused on Valentine's Day, however, most of the content is applicable any time of the year. Don't miss our feature on SevenVenues brides – it's a surefire antidote to the winter blues. This issue also includes gift guides, playlists and Broadway musical recommendations for date night - be it Valentine's Day or later.

To see previous editions, please visit the SevenVenues Quarterly section of our Media Gallery by clicking here.

We hope this first issue of SVQ leaves you feeling hopeful and inspired. Enjoy!