Venue Policies & Procedures
The City of Norfolk's SevenVenues strives to provide the best possible customer experience while providing a safe and healthy environment for all. To ensure the safety and well-being of our clients, patrons and staff, the following building policies are in effect: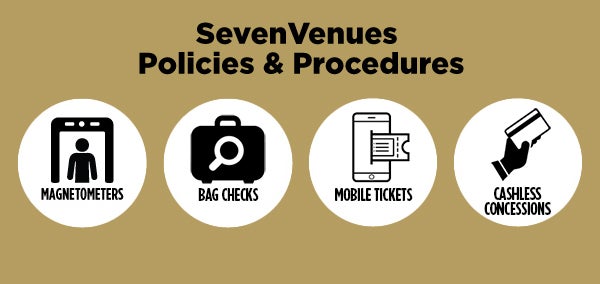 Walk-through magnetometers are now located on all SevenVenues properties. Patrons who opt to not go through the magnetometer are subject to a physical and/or visual inspection of person and belongings. Failure to consent or submit to an inspection will result in denial of entry.
SevenVenues reserves the right to determine the method of security necessary to create a safe environment. Please visit SevenVenues.com or follow us on social media for the latest news. You can also sign up to receive SevenVenues e-mails here.
SevenVenues utilizes paperless tickets for all eligible shows. Please download your tickets to your phone prior to your arrival for fast entry. Need help? Click here for instructions.
We look forward to providing you with the finest entertainment in the region!
Accessible Seating

To request accessible seating, patrons can:

Toggle the Accessibility Seating button when selecting tickets for your event on Ticketmaster.com

Call the Scope Arena box office at 757.664.6464
Visit the Scope Arena box office Monday through Friday from 10 a.m. - 4 p.m.

Accessible seating is reserved for the exclusive use of individuals with disabilities and their guests. The purchase or use of these seats by non-disabled individuals is strictly prohibited and can result in ejection and/or forfeiture of ticket price.

Box Office & Ticketing

SevenVenues utilizes paperless tickets for all eligible shows. Please download your tickets to your phone prior to your arrival for fast entry.

Need help? Click here for instructions. Please note: Once a mobile ticket is downloaded, any previous paper tickets distributed to you will be invalidated.

Lost Tickets - The box office can reprint tickets, provided the patron can verify the purchase.
Facility Fees - All tickets will incur a facility fee. These fees are used for capital improvements and the restoration of SevenVenues-managed properties.
Mail Delivery - The box office reserves the right to change tickets from mail delivery to will-call pickup at their discretion. Will-call pickup requires a valid photo ID.
Gift Certificates - Gift certificates are available in various denominations. Please contact the box office at 757.664.6464.
Group Sales - Please visit our Group Sales page for more information.
Third-Party Ticket Sellers – The Scope Arena box office and Ticketmaster are the only authorized sellers of tickets for all SevenVenues events. Ticketmaster Verified Tickets is the only authorized re-seller of tickets. For more information, please visit our Authorized Ticket Sales page.

For information on box office hours, click here.

Camera, Phone, Binocular and Video Recorder Policy

Professional cameras are prohibited inside all SevenVenues properties unless accompanied by appropriate media credentials. Media requests must be approved in advance by venue and tour management.


Cameras with a six-inch lens or smaller are permitted, however, promoters reserve the right to prohibit all cameras at certain events. Patrons can call 757.664.6464 to request the photo policy prior to an event.


Video and audio recording devices and selfie sticks are prohibited.


SevenVenues reserves the right to confiscate unapproved cameras or recording devices.

Children

SevenVenues encourages families to enjoy performances together, however, in consideration of other ticket holders, most performances are not suitable for infants and toddlers unless otherwise specified. Children who have reached their second birthday are required to have a ticket. Some family shows designate a different age limit for tickets. If you have questions regarding this policy or the age appropriateness of a performance, please call 757.664.6464 or email info@sevenvenues.com.

Cleaning Protocols

SevenVenues has implemented enhanced cleaning protocols including but not limited to:

Disinfecting high-touch areas such as escalator handrails, stair railings, door handles, purchase devices and elevator buttons with CDC recommended products multiple times during events.
Deep cleaning of venues between events.

Clear Bag Policy

The Norfolk Tides are implementing a clear bag policy at Harbor Park ahead of the 2023 season. For more information on this policy, please visit norfolktides.com.

Code of Conduct

SevenVenues is committed to providing a safe and enjoyable experience for all patrons. During the performance, talking, coughing, rustling of paper and noise from electronic devices disturbs performers and your fellow audience members. To ensure patrons and performers enjoy shows free of distractions, SevenVenues reserves the right to ask any individual to leave if his or her behavior is deemed disruptive.

Grounds for dismissal include but are not limited to: intoxication, disruption of a performance, occupying a seat for which you do not possess a ticket, obscene behavior, offensive language or attire, inappropriate public displays of affection, unauthorized vending, peddling promotional items and product sampling.

Concessions

For your convenience, concession stands are available at most events for the purchase of snacks, alcoholic and non-alcoholic beverages. Please note that all concessions are cashless.

Beverages are permitted inside the seating area for select events. To check if drinks are allowed inside the venue at your event, please ask an usher or concession staff upon arrival.

Inclement Weather

Generally, performances will go on as scheduled regardless of inclement weather and no refunds will be issued. However, in the unlikely event that a performance is canceled, refunds will be promptly distributed. Please visit our Inclement Weather Page for the most up-to-date information.

Lost & Found

During intermission or after the event, please alert an usher if you have lost an item. If you are no longer at the venue, please call the receptionist at 757.664.6464 during business hours to check lost and found.

Parking Garages

Venue parking garages and lots can fill quickly and are cash only on entry, so please expect delays on entry and exit. For more information on transportation options and a list of nearby garages, please visit our Plan Your Visit page.

Security

To ensure a safe and enjoyable environment, SevenVenues has implemented new security measures.

Magnetometers
Entering a SevenVenues facility constitutes consent to metal detector screening, physical and/or visual inspection of person and belongings. Failure to consent or submit to an inspection will result in denial of entry. In order to increase the efficiency of this process, guests should minimize the number of personal items they bring to the venue.

Prohibited Items

Illegal weapons
Outside food, beverages and coolers
Glass or metal bottles, cans or thermoses (refillable plastic bottles permitted)
Cameras with 6" lens or more (media with credentials permitted)
Laptops
Video/audio recording devices
Selfie sticks
Animals (service animals permitted)
Laser pointers/pens
Masks that cover the entire face (except plastic face shields)
Any item deemed dangerous or inappropriate by venue personnel


Service Animals

Service Animals are allowed on the premises under the American with Disabilities Act (ADA) that comply with additional identification requirements of Virginia Law. Service Animals must be trained to assist a disabled person with a major life activity. In general, Service Animals may accompany a disabled person in our facilities. Service Animals must have an official harness, backpack or vest identifying the animal as a trained service animal (VA 51.5-44). Companion and therapy animals/pets are NOT covered under ADA and are excluded from this exemption, therefore our policies regarding service animals does not extend to "therapy dogs" or "emotional support animals."

Please note that under Section (VA 51.5-44.1) Any person who knowingly and willfully fits a dog with a harness, collar, vest or sign, or uses an identification card commonly used by a person with a disability, in order to represent that the dog is a service dog or hearing dog to fraudulently gain public access for such dog pursuant to provisions in Section (VA51.5-44) is guilty of a Class 4 misdemeanor.

​Service Animals are not permitted to occupy seats in any of our facilities.

Smoking

All SevenVenues properties are entirely smoke-free. This includes electronic cigarettes. There are designated outdoor smoking areas available. Please note, it is illegal to consume cannabis on a SevenVenues property. Under Virginia law, smoking cannabis is permitted in private residences but not in public.

Please be advised that performances may include smoking by artists onstage. Strobe, haze and other special effects may also be used during performances.