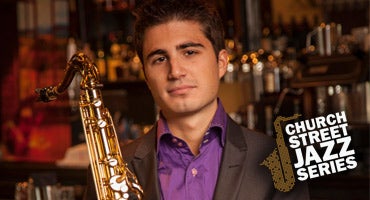 Sat, Mar 17, 8:00pm
$35 - $75 plus applicable fees

Don't get ripped off! The Scope Arena Box Office and Ticketmaster are the only authorized sellers of tickets.

SevenVenues is not responsible for tickets purchased anywhere other than Ticketmaster or through the Scope Arena Box Office and will not honor, exchange, or refund counterfeit, duplicate, or invalid tickets.

Ticket prices are subject to change.
Sat, Mar 17, 8:00pm
Vincent Ingala
Church Street Jazz Series
Vincent Ingala was born in Prospect, Connecticut to Italian parents. At age four, he started playing the drums when his parents bought him a drum set; as he got older he learned to play the guitar (he took lessons for about 9 months) and later the saxophone. As a teenager, he played at local restaurants and clubs. His father was a disc jockey, and so Vincent was introduced to many different styles of music, including music from the 1950s and also smooth jazz.
One of the fastest emerging contemporary jazz recording artists in recent history, multi-instrumentalist, composer and producer, Vincent Ingala has blasted into an exciting stratosphere of his own making since his 2010 critically acclaimed debut album, North End Soul. Still in his early twenties, the charismatic saxophonist has been named Billboard Smooth Jazz Artist of the Year in 2012, Sirius XM Watercolors Breakthrough Artist of the Year in 2013, and his music is consistently found atop the most noteworthy music charts in the world, including three number one hits on the Billboard Smooth Jazz Chart, and seven singles in the Billboard Smooth Jazz Top 10.
As much of an entertainer as he is a musician, the Yamaha Performing Artist has been wowing live audiences as a regular on the popular smooth jazz festival and cruise circuit for several years. His fun-loving stage presence, combined with an obvious passion for playing, elevates the crowd to an exciting frenzy!
​His third album, 2015's Coast To Coast, has placed Vincent Ingala back on top, with the project's first and second singles, hitting number one on the Billboard Contemporary Jazz Chart. The star-studded, horn-drenched new album finds Vincent vibing with British jazz trombonist, Dennis Rollins (of BadBone & Co.), Lee Thornberg (formerly of Tower Of Power), and smooth jazz icon, Peter White.
​An "old soul," as he's often referred to, Vincent possesses a deep knowledge and appreciation for all genres of music. His versatility on multiple instruments makes him sought after both live, and as a producer in the studio. This coast-to-coast sensation brings a playful spirit, old soul, and youthful enthusiasm to contemporary jazz, with a real sense for what music fans are seeking, from recordings to live performances.
Vincent Ingala and his band will fire up the stage in the 3rd season of the "Church Street Jazz Series" Saturday, March 17th, 2018, 8pm at the Historic Attucks Theatre in Downtown Norfolk.
Event Dates
Related Links