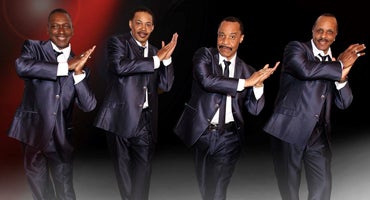 Sat, Jan 13, 8:00pm
$45 - $65 plus applicable fees

Don't get ripped off! The Scope Arena Box Office and Ticketmaster are the only authorized sellers of tickets.

SevenVenues is not responsible for tickets purchased anywhere other than Ticketmaster or through the Scope Arena Box Office and will not honor, exchange, or refund counterfeit, duplicate, or invalid tickets.

Ticket prices are subject to change.
Sat, Jan 13, 8:00pm
The Dramatics
Featuring Above and Beyond Band with singer Jennifer Nottingham
The Dramatics
For over four-decades, the Dramatics, with their rich, dazzling vocal blend has wowed audiences all over the world. With over 38 charted hits to date, the Dramatics have displayed a distinctive sound that has transcended time, music genres, and generations alike.
Founded in 1962, the original group was comprised of members of Rob Davis, Ron Banks, Larry Reed, Robert Ellington, Larry "Squirrel" Demps and Elbert Wilkins. After releasing two singles on the Wingate record label and after the departure of Ellington, the Dramatics were signed by the Sport reord label in 1967, releasing their first hit single, 'All Because of You,' reaching No.42 on the R&B Charts. In 1968 William "Wee Gee" Howard replaced lead singer Larry Reed and bass singer Willie Ford, formally of the Capitols replaced Rob Davis. Soon after the group began to collaborate with producer Tony Hester for what would be a string of hits that would begin to define the Dramatics distinctive harmonies and dynamic blends of lead and background vocals. In 1969, the Dramatics signed with the record label Volt – then a part of Stax Records out of Memphis. They re-signed in 1971, and with "Hester's production, released their first national hit, 'Whatcha See is Whatcha Get.' T he songs reached number 3 on the R&B charts and they soon followed up with their another top ten hit, 'Get Up and Get Down.' 'In the Rain,' released in 1972, proved to be their first number one single, topping the R&B charts for four weeks as well as reaching the top five on the pop charts. It was during this same year that L. J. Reynolds, previously of the Chocolate Syrup, met Ron Banks at the Apollo Theater. Following the release of another hit single, 'Hey You, Get Off My Mountain,' William "Wee Gee" Howard and Elbert Wilkins left the group making room for new members, L.J. Reynolds and Lenny Mayes. With the fresh edition of Reynolds' powerful tenor and the charismatic energy and the raspy soulful, delivery of Mayes, the Dramatic's star continued to climb. What ensued was a cascade of hits and fan favorites that include the top 10 'Fell For You' (A Dramatic Experience, 1973), 'And I Panicked' (Dramatically Yours, 1974), 'Door To Your Heart' (The Dells vs. The Dramatics, 1974), '(I'm Going By) The Stars In Your Eyes' , 'Me And Mrs. Jones' (The Dramatic Jackpot, 1975), 'Just Shopping (Not Buying Anything)', 'Come Out Of Your Thing'(Drama V, 1975), 'Be My Girl', 'I Can't Get Over You' (Joy Ride, 1976), 'Do What You Wanna To Do' ,' Shake It Well,' 'Stop Your Weeping' (D o What You Wanna To Do, 1978), 'That's My Favorite Song' and 'Welcome Back Home' (Any Time, Any Place, 1979), 'It Ain't Rainin' (On Nobody's House But Mine)' , and 'Be With The One You Love' (10 ½, 1980), as well as countless other great musical masterpieces.
In 1980, L.J Reynolds left in the group to pursue a solo career and the group later disbanded in 1982.
In 1985, Reynolds and Banks reunited with Lenny Mayes, William "Wee Gee" Howard, Larry "Squirrel" Demps and Willie Ford and recorded "Somewhere in Time (A Dramatic Reunion)." The reunion initially was not intended to be permanent, but the new album and successful tour dates were embraced by fans with such enthusiasm that the singers decided to stay together. In 1989, they released the album "Positive State of Mind"fol lowed by the album "Stone Cold"in 1991. In 1993, the group introduced a new generation of fans to the power of the Dramatics' sound when they collaborated with Snoop Dogg to create the hip hop classic, 'Doggy Dogg World.' The recording was such a success that they got together again with Snoop in 2002 and recorded 'Ball in.'' In 1999, the Dramatics released a timeless Christmas album titled, A Dramatic Christmas and in 2000 they released "If You Came Back to Me."I n 2001, the group released the Dramatics:Greatest Hits Live was recorded in June of the same year concert in New Haven, Connecticut and two years later in 2002, the group released the CD, "Look Inside." In 2010, the group released 'Bad Girl' on the compilation CD, "Motor City Hits Vol.1"The Dramatics lost Lenny Mayes in 2004 and Ron Banks in 2009, yet the group continued to replenish their talent, record new hits and perform for the millions of fans, old and new who still enjoy the unmistakable Dramatics sound. Still driven by the vocals of lead singer L.J. Reynolds, The Dramatics continued to create and recreate musical magic into the 21st century.

Above and Beyond Band
In or about 2015, Alexander "Al" Hundley called upon 3 local musicians, known for their lifelong passion and aptitude for their individual instrumentality. With Al on the drums, Greg "Termite" Rich on the keyboard, Carlton Savage on lead guitar and Jacques Jones on the bass, they established the smooth sounds of Above and Beyond Band on January 15, 2016. This collaboration has performed at Jay Lang's "Sundown at the Crown" in Hampton, Virginia, "Jazz Sunday Brunch" at Point Plaza Suites in Newport News, Virginia, for several local events and for the past year, has been the premier house band at Circle Snack and Grill Bar and Restaurant, Hampton, Virginia; well-known and well attended on Wednesday nights by natives and visitors alike.
Above and Beyond Band was born out of a distinct love of Jazz. The band was shaped of local musical legends, who in and of their own right, have succeeded within groups outside of Above and Beyond Band. Though Jazz was the music genre that brought them together, they each have the skill set and flair to perform any style of music, whether Jazz, R&B/Soul, Easy Listening, Blues, Classical or Holiday, the blend of sounds by Above and Beyond Band will leave the listener longing for more.

Jennifer Nottingham
Jennifer Nottingham, born in Paterson, New Jersey, and reared in Robersonville, North Carolina, found her love for melodic renditions at the tender age of 6 as she simulated some of her beloved artists heard over the radio. A few of her favorites included, Natalie Cole, Gladys Knight, and Diana Ross. Her love for music compelled her to learn to play the piano, clarinet, and the oboe: however, she came to realize that her true passion and gift was in vocal instrumentality. Jennifer attended the North Carolina School of the Arts for voice, and has performed for many stage plays, weddings, and special events. She is a 2013 graduate of Strayer University, Summa Cum Laude. In addition to singing, Jennifer also enjoys reading, listening to jazz, and fellowshipping with friends and family, to include her church family.