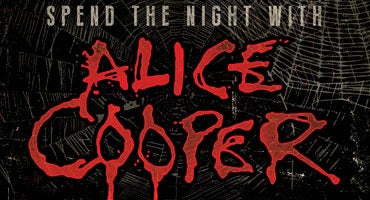 Wed, Apr 26, 8:00pm
$48 - $73 plus applicable fees

Don't get ripped off! The Scope Arena Box Office and Ticketmaster are the only authorized sellers of tickets.

SevenVenues is not responsible for tickets purchased anywhere other than Ticketmaster or through the Scope Arena Box Office and will not honor, exchange, or refund counterfeit, duplicate, or invalid tickets.

Ticket prices are subject to change.
Wed, Apr 26, 8:00pm
Spend the Night with Alice Cooper
Alice Cooper pioneered a grandly theatrical brand of hard rock that was designed to shock. Drawing equally from horror movies, vaudeville, and garage rock, the group created a stage show that featured electric chairs, guillotines, fake blood and boa constrictors. He continues to tour regularly, performing shows worldwide with the dark and horror-themed theatrics that he's best known for.

With a schedule that includes six months each year on the road, Alice Cooper brings his own brand of rock psycho-drama to fans both old and new, enjoying it as much as the audience does. Known as the architect of shock-rock, Cooper (in both the original Alice Cooper band and as a solo artist) has rattled the cages and undermined the authority of generations of guardians of the status quo, continuing to surprise fans and exude danger at every turn, like a great horror movie, even in an era where CNN can present real life shocking images.

With his influence on rock & roll long since acknowledged, there is little that Alice Cooper hasn't achieved in his remarkable career, including platinum albums, sold-out tours and any number of honors and career achievement awards. As he heads back out on the concert trail each year, Cooper insists he's still motivated to continue touring and recording albums, as well as making time for such side projects as Cooper'stown (his Phoenix-based restaurant/sports bar) and his "Nights With Alice Cooper" nightly radio show, syndicated domestically and worldwide on over 100 stations.
Event Dates
Related Links