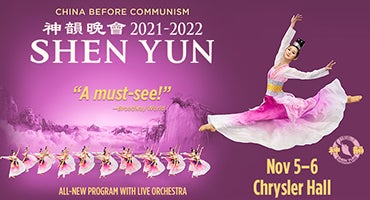 Nov 5 - 6, 2021
$80 - $165 plus applicable fees

Don't get ripped off! The Scope Arena Box Office and Ticketmaster are the only authorized sellers of tickets.

SevenVenues is not responsible for tickets purchased anywhere other than Ticketmaster or through the Scope Arena Box Office and will not honor, exchange, or refund counterfeit, duplicate, or invalid tickets.

Ticket prices are subject to change.
Nov 5 - 6, 2021
Shen Yun
5,000 Years of Civilization Reborn
The culture of ancient China was divinely inspired. Shen Yun's works reflect this rich spiritual heritage...
Shen Yun invites you to travel back to the magical world of ancient China. Experience a lost culture through the incredible art of classical Chinese dance, and see legends come to life. Shen Yun makes this possible by pushing the boundaries of the performing arts, with a unique blend of stunning costuming, high-tech backdrops, and an orchestra like no other. Be prepared for a theatrical experience that will take your breath away!
"Mesmerizing performance! Reclaiming the divinely inspired cultural heritage of China… I encourage everyone to see and all of us to learn from." —Donna Karan, fashion designer
"Simply gorgeous stage magic. A must-see!" —Broadway World
Event Dates
Related Links