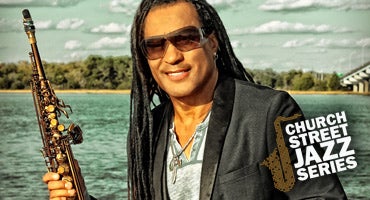 Sat, Jan 6, 8:00pm
$35 - $75 plus applicable fees

Don't get ripped off! The Scope Arena Box Office and Ticketmaster are the only authorized sellers of tickets.

SevenVenues is not responsible for tickets purchased anywhere other than Ticketmaster or through the Scope Arena Box Office and will not honor, exchange, or refund counterfeit, duplicate, or invalid tickets.

Ticket prices are subject to change.
Sat, Jan 6, 8:00pm
Marion Meadows
Church Street Jazz Series
Smooth jazz-styled soprano saxophonist Marion Meadows was born in West Virginia and raised in Stamford, Connecticut; after adopting the classical clarinet at age nine, he moved to the saxophone as a teen, later studying composition and arranging at Boston's Berklee College of Music. A protégé of Joe Henderson and Eddie Daniels, Meadows later served a long stint as a member of Norman Connors' Starship Orchestra. He met Norman Connors in New York City and a year or so later he called him to record with him in California. They recorded the "Invitation" album and a few months later Norman asked him to join his band. During his tenure with Norman Marion played everything from John Coltrane to Pharaoh Sanders and toured the world with many great artists such as Angela Bofill, Jean Carne, Michael Henderson, Glenn Jones, Eartha Kitt, and Will Downing.
After a series of session dates and sideman gigs, he made his solo debut in 1990 with the RCA release FFor Lovers Only". One day, while waiting for a train, he pulled out his horn and began playing under the huge dome. His sweet sound caught the attention of fellow traveler, producer and TV composer Jay Chattaway, who happened to be passing by on his way to the train. Chattaway was so impressed with Meadows' sound that he hooked Meadows up with legendary keyboardist Bob James. Meadows and James collaborated on a recording which unfortunately went unreleased. The experience put him on the road to his eventual success. Meadows hooked up with numerous artists and musicians and became a well-known sideman in his own right, recording or performing over the years with Brook Benton, Phyllis Hyman, The Temptations, Michael Bolton, Bob Baldwin, Chuck Loeb, John Lee, among many others.
In the late '80s, Meadows stretched his boundaries by becoming a member of a New York avant-garde band called the Aboriginal Music Society. In 1990 he submitted a solo project to Steve Backer at Novus/RCA and was signed to a recording contract, thus marking the beginning of his solo career. Meadows' first RCA release "For Lover's Only" was a huge success and was followed by his ground breaking "Keep it Right There" album. He became a staple of the contemporary jazz format with his subsequent recordings, which include Body Rhythm (1994) and Forbidden Fruit (1996), Passion (1997), Another Side Of Midnight (1999), Next To You (2000), In Deep (2002), Players Club (2004), Dressed To Chill (2006), Secrets (2009) Whisper (2013) and Soul Traveler his current release on the New York based Shanachie Label. Meadows is a semi-pro cyclist, graphic artist and designer.
Marion Meadows and his band will excite your senses on stage in the 3rd season of the "Church Street Jazz Series" Saturday, January 6th, 2018, 8pm at the Historic Attucks Theatre in Downtown Norfolk.
Event Dates
Related Links