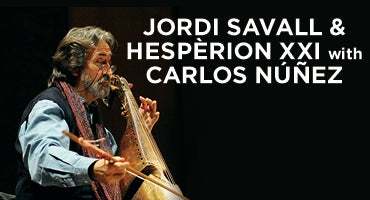 Tue, May 1, 7:30pm
$25 plus applicable fees

Don't get ripped off! The Scope Arena Box Office and Ticketmaster are the only authorized sellers of tickets.

SevenVenues is not responsible for tickets purchased anywhere other than Ticketmaster or through the Scope Arena Box Office and will not honor, exchange, or refund counterfeit, duplicate, or invalid tickets.

Ticket prices are subject to change.
Tue, May 1, 7:30pm
Jordi Savall & Hespèrion XXI
with Carlos Núñez
One of the most versatile musical personalities of his generation, Jordi Savall has rescued musical gems from the obscurity of neglect and oblivion and given them back for all to enjoy. Together with Montserrat Figueras, he founded the ensemble Hespèrion XXI, with whom he explores and creates a world of emotion and beauty shared with millions of early music enthusiasts around the world. Savall has recorded and released more than 230 albums covering the Medieval, Renaissance, Baroque and Classical music repertories, with a special focus on the Hispanic and Mediterranean musical heritage, receiving many awards and distinctions including the Grammy Award.
Carlos Núñez is the world's most famous player of the gaita, the bagpipes of Galicia, Spain—the region Paddy Moloney, leader of the celebrated Irish traditional band the Chieftains, called "the unknown Celtic country." Núñez's instrumental arsenal also includes the ocarina, assorted whistles, Scottish highland pipes, uilleann (Irish) pipes, bombarde (a kind of Breton oboe), biniou koz (Breton bagpipes), and pastoral pipes (18th-century precursor of the uilleann pipes).
Playing period instruments, these phenomenal artists explore Celtic music across countries and centuries, from Ireland and Scotland to France and Spain. Discover music curated by artists whose passion for ancient musical traditions inspires unforgettable performances.
"In a word: perfection. Jordi Savall is one of those elect musicians whose curiosity, scholarship, probity and expressiveness give pleasure in everything he plays." –Chicago Tribune
"If it's possible to become a pop star playing traditional music on bagpipes and recorder, Núñez could be the man." –Los Angeles Times
"Overflowing with natural charm, Núñez has become quite the showman as well as the brilliant instrumentalist on just about every woodwind instrument you can imagine." –The Times, London
Event Dates
Related Links