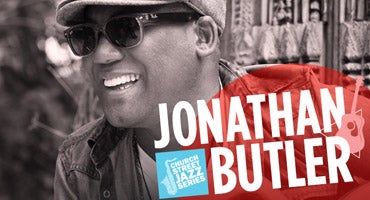 Sat, May 18, 8:00pm
$50 - $85 plus applicable fees

Don't get ripped off! The Scope Arena Box Office and Ticketmaster are the only authorized sellers of tickets.

SevenVenues is not responsible for tickets purchased anywhere other than Ticketmaster or through the Scope Arena Box Office and will not honor, exchange, or refund counterfeit, duplicate, or invalid tickets.

Ticket prices are subject to change.
Sat, May 18, 8:00pm
Jonathan Butler
Church Street Jazz Series
The youngest of 13 children, Jonathan Butler grew up in Cape Town, South Africa with the country under the cloud of segregation and Apartheid rule. "I was born poor, but richly blessed with talent and the gift to make music," Butler said. "I can't dismiss where I've been or where I've come from. I'm a proud South African and I came from nothing."

Butler began his singing career at age seven, releasing his first album in 1973 and winning the Best New Artist Grammy in South Africa the following year, at age 12. In 1975 Butler earned three gold records ("Please Stay" went double gold and "I Love How You Love Me" went gold), making history by being the first black artist on white South African radio.

A decade later, in 1987, Butler moved to London, England, where he signed with Jive Records and released his first international album. The self-titled set went gold in the UK and the USA and Butler received Grammy nominations for Best R&B Song and Best Jazz Song that same year.

Butler's 2004 album, "Surrender," went gold in South Africa, where he remains a superstar. He launched the Jonathan Butler Foundation in his native country to fund music education programs that give children the purpose to overcome a life of drugs and poverty just as he did. His music and arts programs serving South African children ages 4-17 operate with the mission statement, "Purpose kills addiction."

Butler's music has purpose, providing comfort and inspiration. When he sings, he testifies to the glory and healing power of love. When he plays guitar, his fast fingers innately find notes of passion and divinity. Jonathan Butler's recording career has carried him far, far beyond his wildest dreams.

Blue Pyramid Productions is proud to have guitarist Jonathan Butler headlining the 5th and final performance of the 4th season of the Church Street Jazz Series at The Harrison Opera House in Downtown Norfolk.