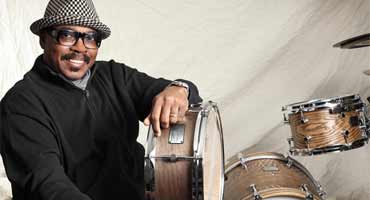 Fri, Jan 13, 8:00pm
$25 - $60 plus applicable fees

Don't get ripped off! The Scope Arena Box Office and Ticketmaster are the only authorized sellers of tickets.

SevenVenues is not responsible for tickets purchased anywhere other than Ticketmaster or through the Scope Arena Box Office and will not honor, exchange, or refund counterfeit, duplicate, or invalid tickets.

Ticket prices are subject to change.
Fri, Jan 13, 8:00pm
Harvey Mason
Church Street Jazz Series
You will have just begun to scratch the surface by identifying the masterful Harvey Mason as just a drummer. Yes, his precision, time keeping and versatility have placed him among THE most in-demand and most recorded session drummers of all-time. Yes, his tumbling tom-tom fills and the lickity slick synchronization between his hi-hat cymbals, snare and bass drums are instantly recognizable signatures. Yes, he's been hired by everyone from Barbra Streisand to James Brown, Henry Mancini to Herbie Hancock, Reba McIntyre to Sergio Mendes and to the London Symphony Orchestra. Yes, he has played on well over 1,000 recordings and hundreds of film scores, winning four 1st place plaques from Modern Drummer magazine's annual studio poll and being the first call drummer for the Academy Awards ceremonies on 16 occasions.
As a composer, he has written songs recorded by artists ranging from Donald Byrd to the Brothers Johnson, as well as a television commercial for Mattell Toys' Shanti doll. He also composed a percussion piece for Quincy Jones' The Color Purple score.
As a founding member of the contemporary jazz "super group" Fourplay, Mason flexes his writing, playing and arranging skills with partners Bob James, Nathan East and Larry Carlton (the latter of whom replaced original member Lee Ritenour). Fourplay's debut album sat atop Billboard's Contemporary Jazz chart for thirty-four weeks leading to a platinum album, three subsequent gold discs, a Soul Train Music Award and three Grammy nominations.
For his work, Mason also earned Drummer of the Year honors for the first two years of the brand new Smooth Jazz Awards.
The roots of Harvey Mason's rhythm are as ingrained as DNA. Born in Atlantic City, New Jersey on February 22, 1947, he reveled in the rhythms of life as they manifested all around him. He remembers lying in bed at night and locking into the rolling groove of his mother's washing machine, fluffing his pillow into a ball and playing along to it with his fingers.
Harvey continued his musical education first at the Berklee School of Music. Harvey toured Europe with the great Errol Garner before moving with his family to Los Angeles. He gigged with George Shearing and did one semester of practice teaching at Hoover High School in Glendale to complete his B.A.
In the realm of '70s funk-jazz fusion "Mase" was king. His work on Donald Byrd's commercial breakthrough album, Black Byrd, and a series of successful "crossover" albums for Blue Note Records led to Harvey's seminal work on Herbie Hancock's million-seller Head Hunters (1974), which contained the hit "Chameleon" (co-composed by Harvey) and Mason's own arrangement of Hancock's '60s standard, "Watermelon Man."
Ever growing and stretching, Harvey went back to school to study at Southwestern Law School (1986) and UCLA (1988), the latter for film scoring.
Flip across your radio dial on any given day and you're sure to come across a gem that Harvey Mason has polished. Today - working overtime in his own Mason home recording studio "The Mase" remains all over the place! And he still finds time to coach his youngest son Max's basketball team. He brings his musical gifts and his band to the 3rd concert in the Church Street Jazz Series Martin Luther King Jr. weekend, January 13th, 2017 at the Attucks Theatre.