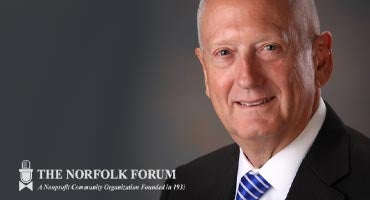 Thu, Aug 27, 7:30pm
$50 plus applicable fees

Don't get ripped off! The Scope Arena Box Office and Ticketmaster are the only authorized sellers of tickets.

SevenVenues is not responsible for tickets purchased anywhere other than Ticketmaster or through the Scope Arena Box Office and will not honor, exchange, or refund counterfeit, duplicate, or invalid tickets.

Ticket prices are subject to change.
Thu, Aug 27, 7:30pm
General James Mattis
The Norfolk Forum
The Norfolk Forum event featuring General James Mattis, originally scheduled for August 27 at Chrysler Hall, has been rescheduled. For information regarding the new date and location, please click here.

Tickets purchased at Ticketmaster.com will be refunded within 30 days. All other patrons will need to contact their original point of purchase, including the Scope Arena box office. The box office is open Monday, Wednesday and Friday from 10 a.m. - 2 p.m.

Questions? Please contact The Norfolk Forum at 757.627.8672 or [email protected].
---

Former U.S. Secretary of Defense

A dedicated patriot, intellectual, and strategist, former Secretary of Defense and retired Marine General James N. Mattis exemplifies principled leadership in times of turbulence.

One of the preeminent leaders of his generation, Gen James Mattis has spent nearly 50 years in the service of his country.
A rare combination of thinker and doer, and scholar and strategist, Gen Mattis knows the monumental powers and responsibility of our military forces, and the challenges of our dangerous and complex world. His matchless dedication to his job and country earned him universal respect and reverence – from allies and adversaries alike.
Gen Mattis served as the 26th Secretary of Defense of the United States for nearly two years before resigning with distinction. With his reputation as a sharp analyst and venerable wartime leader, Gen Mattis received nearly unanimous, bipartisan support for his nomination. A living Marine Corps legend, he made history by securing special permission from Congress to lead the Pentagon, sooner than he was eligible.
A veteran of three wars, Gen Mattis spent much of his career involved in overseas conflict. Described by colleagues and his staff as brave, honest, and humble, Gen Mattis proved to be an exceptional motivator of Marines and developed a leading style that endeared him to his troops.
Gen Mattis speaks with candor and thoughtful analysis about the threats that face our nation and military. Humorous, compassionate, and strategic, he also offers insightful lessons in leadership, with a deep focus on the art of empowering individuals.
Event Dates
Related Links