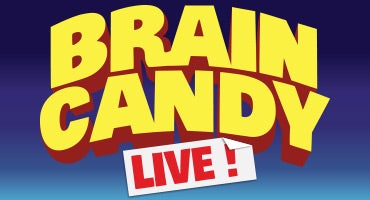 Sun, Mar 12, 7:00pm
$30 - $60 plus applicable fees

Don't get ripped off! The Scope Arena Box Office and Ticketmaster are the only authorized sellers of tickets.

SevenVenues is not responsible for tickets purchased anywhere other than Ticketmaster or through the Scope Arena Box Office and will not honor, exchange, or refund counterfeit, duplicate, or invalid tickets.

Ticket prices are subject to change.
Sun, Mar 12, 7:00pm
Brain Candy Live
with Adam Savage & Michael Stevens
It's what your mind is hungry for…

Adam Savage, one of television's most loved personalities, has joined forces with Michael Stevens, one of YouTube's biggest stars and they're coming to a theater near you. They're bringing along more than three tons of their crazy toys, incredible tools and mind-blowing demonstrations for a celebration of curiosity that's an interactive, hands-on, minds-on theatrical experience like no other.
Brain Candy Live has been described as "A cross between TED Talks and the Blue Man Group." Savage and Stevens can't wait to unleash their collective sense of wonder, curiosity and fun and they're inviting you and your friends and family to join-in and get your minds messy. Adam and Michael's Brain Candy Live experience is like a two-hour play date with Walt Disney, Willy Wonka and Albert Einstein.

Ask yourself, "Is it possible to 3D print a human - live onstage? Can you slow down the effects of gravity with something we throw away every day? What happens if everyone on earth jumps in the air at exactly the same time? Can anyone bottle-up a magical invisible substance and use it to power a rocket? Discover all this and more as Adam and Michael entertainingly answer questions, question answers and talk Mother Nature into doing some things she's never done before!
Smart is the new superpower and two of this planet's most entertaining everyday heroes are coming to your town to rescue you and your family from boredom. Join them as they use their secret recipe of fun, surprise, excitement (and just a pinch of danger) to cook-up and deliver a giant batch of magical Brain Candy to every mind in the audience.