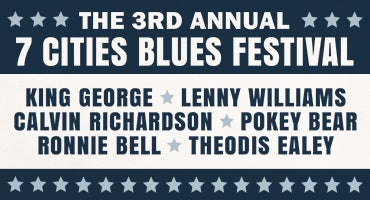 Sat, Oct 7, 7:00pm
$59 - $175 plus applicable fees

Don't get ripped off! The Scope Arena Box Office and Ticketmaster are the only authorized sellers of tickets.

SevenVenues is not responsible for tickets purchased anywhere other than Ticketmaster or through the Scope Arena Box Office and will not honor, exchange, or refund counterfeit, duplicate, or invalid tickets.

Ticket prices are subject to change.
Sat, Oct 7, 7:00pm
The 3rd Annual 7 City Blues Festival
The Blues Is Alright Tour returns to Chrysler Hall on Saturday, October 7 for The 3rd Annual 7 City Blues Festival at 7 p.m. The Blues is musical storytelling filled with stark emotion and a revolving reality check. It's authentically raw; transforming tragedy, adversity and heartache into a visceral and cathartic experience. This special night of emotive lyrics and guitar-driven accompaniment features performances by King George, Calvin Richardson, Pokey Bear, Lenny Williams, Ronnie Bell and Theodis Ealey.
---
ABOUT KING GEORGE
Bursting onto the Southern Soul scene with his signature party-centric sound filled with R&B flair, King George has quickly become a fan-favorite. Based out of Hopkins, SC, King George exploded on the Southern Soul scene and rose quickly to headliner status on The Blues Is Alright Tour this past Spring 2023. His highly anticipated album, Juke Joint Music was released in 2022 after launching onto the music scene via YouTube in 2020. For old-school music lovers, King George's music is the perfect combination of R&B, soul, and funk that is sure to get anyone to do a little two-step. With his rich tone and satin-smooth vocals, his songs, "Keep on Rollin", "Too Long", "Friday Night" and "Leave & Party" are his top hits. There can only be one king: King George. For more information on King George, visit www.803kinggeorge.com and follow @King George on Facebook and @803kinggeorge on Instagram.
ABOUT CALVIN RICHARDSON
Born and raised in Monroe, North Carolina, Calvin Richardson is the fifth of nine children and the son of a Gospel singer. His life as a performer goes back to childhood: as a kid, Calvin's mother led a Gospel act called The Willing Wonders and Calvin was the group's youngest member. His first solo album, Country Boy, was released in 1999 by Universal Records and featured the singles "True Love" (featuring Chico DeBarge) and "I'll Take Her" (featuring K-Ci Hailey). After being dropped by Universal, Calvin eventually rebounded and landed another record deal, this time with Hollywood Records. In September 2003, he released his second album, 2:35 PM. The album, which was named after the time that his son Souljah was born, featured the Grammy-nominated hit "More Than a Woman," featuring Angie Stone. Other singles from the album were "You've Got Me High" (featuring Slum Village) and "Keep on Pushin'." Most recently, Calvin signed with Shanachie Records. His first Shanachie album, When Love Comes came out May 27, 2008. It was followed by the Grammy-nominated Bobby Womack tribute album Facts of Life in 2009 and an all-new album, America's Most Wanted, in 2010. For more information on Calvin Richardson, visit www.iamcalvinrichardson.com and follow @IAmCalvinRichardson on Facebook and @iamcalvinrichardson on Instagram.
ABOUT POKEY BEAR
Wardell "Pokey Bear" Brown was born on February 2, 1970 in Baton Rouge, Louisiana. He is known for his soulful sound of music in the Blues/Southern Soul genre; however, he did not start out that way. Pokey Bear began his career as a rap music artist, but after doing it for a while decided to try other styles. His venture off into other styles of music would lead him to be the soulful singer that he is today. He was first recognized in music for his first two projects produced by Beat Flippa. Particularly his songs entitled "They Call me Pokey" and "Side Piece," The song "Side Piece" happened as a result of a hook that was written by Heavy in which he asked Pokey to write lyrics to. He has worked with artists such as Tyree Neal, Adrian Bagher, Ms. Pat, Veronica Raelle, and Cupid. For more information on Pokey Bear, follow @Big Pokey Bear-JSP on Facebook and @bigpokeybearjsp on Instagram.
ABOUT LENNY WILLIAMS
The ultimate soul crooner, Oakland, California native Lenny Williams possesses one of the most distinctive voices in contemporary music. With his rich, passionate vocal style, he is rightfully regarded as one of R & B's most influential soul men. Williams began his musical career making records that have subsequently become R&B and Pop classics, tunes like the mega-hit "Cause I Love You" (recorded on his solo album) and "So Very Hard to Go" which he recorded as the lead singer for Tower of Power. Lenny Williams' style has transcended into the new millennium, influencing many of today's newest R&B and Pop vocalists. Lenny and Kanye West were honored recipients of the BMI Songwriter's Award for the song "Over Night Celebrity," recorded by rapper, Twista. Lenny sounds better than ever as he continues to perform around the world focusing on love. "Love is what has gotten me thru all of these years. I look for love and I surround myself with it," said Williams. He is able to take the listener to the heart of love with such soulful composure because love will never go out of style. For more information on Lenny Williams, visit www.Lenny Williams.com and follow @Lenny Williams on Facebook and @thereallennywilliams on Instagram.
ABOUT RONNIE BELL
Ronnie "RnB" Bell is a church-reared independent R&B singer whose voice recalls the likes of Brian McKnight, Tank, and Jaheim. His material has alternated between contemporary commercial sounds and slower numbers more in line with deeply Southern soul-blues. Raised in Walker, Louisiana, roughly 20 miles east of Baton Rouge, Bell started singing in choirs as a youngster. During his teenage years, he performed with the family group George Perkins & the Voice of Harmony, and then with Kenneth Mitchell & the Voices of Praise. After two years of attending Delta State University, during which he played on the school's Division II championship-winning football team, he transferred to Southern University and joined the Southern University Concert Choir. Bell also opened on-campus gigs headlined by the likes of 112 and Erykah Badu. A self-titled three-song EP was released in 2012 as Bell's recorded solo debut. Several singles such as "Cotton Candy" followed during the next few years, and led to a longer EP, #BBMyself, in 2015. "I'll Pay the Shipping Cost" arrived in 2016. For more information on Ronnie Bell, follow @RonnieBellMusic on Instagram.
ABOUT THEODIS EALEY
Blues guitarist, vocalist, songwriter, producer and entertainer……just a few of the titles that describe the phenomenon of Theodis Ealey. This Mississippi native first picked up an instrument when his older brother, "Y" "Z" Ealey first taught him how to play at the age of 4. Ichiban Records, a respected blues label in Atlanta, recognized Theodis' multiple talents and immediately signed him to a deal in 1991. Over the next 6 years, Theodis and Ichiban Records would enjoy 4 very successful albums. The "Bluesman Lover" made lemonade out of lemons when Ichiban Records eventually closed its doors. Seizing the moment, Theodis Ealey used this opportunity to create his new label home, IFGAM Records. The 2004 "Stand Up In It" project was a runaway success as the #1 Single on Billboard's Hot R&B/Hip Hop Singles Sales Chart for 5 consecutive weeks, debuting at #5 on Billboard's Blues Album Chart and #69 on Billboard's R&B/Hip Hop Charts. For more information on Theodis Ealey, visit www.Theodis Ealey.com and follow @Theodis Ealey Official on Facebook, @theodisealey on Instagram and @theodisealey on Twitter.
This performance is produced by North American Entertainment Group Inc., one of the leading independent promoters of entertainment tours and live events in the United States, in conjunction with Heritage Entertainment Group.