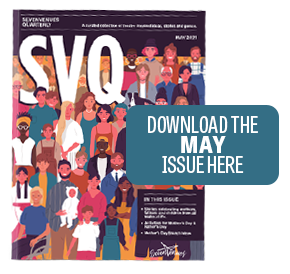 Welcome to SVQ - SevenVenues Quarterly, a curated collection of theatre-inspired stories, ideas and games. There are a few updates regarding these interactive booklets that we would like to share with you:
SVQ is published once a quarter.
The core of the content is directed at our adult patrons and will focus on theatre-related topics.
Each issue includes games, puzzles and coloring art.
SVQ is downloadable and printable.
The most recent issue of SVQ is focused on Mother's Day and Father's Day. If you're looking for a new way to celebrate mom and dad this year, we've curated a list of local activities ranging from horseback riding to candle making that will make the day memorable. Foodies should pay special attention to our SevenVenues chef-inspired Mother's Day brunch menu complete with a local farmers market guide. Our family-friendly Broadway Night movie recommendations are another great way to bring the whole family together.

No matter the day, these ideas are applicable year-round.

To see previous issues of SVQ, please visit the SevenVenues Media Gallery by clicking here.
Enjoy!