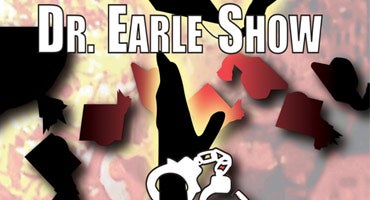 Sat, Mar 11, 10:00am
$20 plus applicable fees

Don't get ripped off! The Scope Arena Box Office and Ticketmaster are the only authorized sellers of tickets.

SevenVenues is not responsible for tickets purchased anywhere other than Ticketmaster or through the Scope Arena Box Office and will not honor, exchange, or refund counterfeit, duplicate, or invalid tickets.

Ticket prices are subject to change.
Sat, Mar 11, 10:00am
The Dr. Earle Williams Show
The inaugural Dr. Earle Show will be taped before a live audience beginning at 10 a.m., Saturday, March 11, 2017 in the auditorium of the historic Attucks Theatre located at 1010 Church St., Norfolk, Virginia. Doors open at 9 a.m. and concessions are available for purchase at the venue.

The Dr. Earle Show
Seven in ten felons will return to prison approximately three years after completing their sentences. There are very few groups that focus on reducing this number, and The Dr. Earle Show is one of these organizations. The purpose of this program is to let individuals, who have had trouble with the law, know that they too can turn their lives around and be a successful member of society.
The Dr. Earle Show presents a series of seminars by former felon and noted clinical psychologist Dr. Earle Williams. These seminars are designed to inform, encourage and teach individuals how to avoid prison, how to prepare for release from prison and how to adjust to the community outside of prison.
Those who can benefit from Dr. Earle Williams's seminars include felons, ex-felons and pre-felons and their families. These sessions are also aimed to guide professionals working with these populations, including lawyers, probation officers, social workers, psychologists and employers.
The Dr. Earle Show includes the viewing of three 30 to 45-minute segments with two 15-minute intermissions. Featured segment topics include:

Dr. Earle Show #1.
How my path from prison led me to become a doctor. This is a screening of Roxbury Redemption, a documentary inspired by his book of the same title, written by Dr. Earle Williams about his journey in and out of the legal system. The documentary was created for Dr. Earle by the award winning actor/director/humanitarian, Tim Reid. There will be a question and answer session after the screening.

Dr. Earle Show #2.
"Turkessa Story." In this segment, Dr. Earle will conduct a live interview with a former Federal prison inmate unwittingly involved in a robbery that cost her fifteen years of her young life. She has successfully transitioned back into our community, works full time while earning a BA degree in business. This young, intelligent and talented young woman graduates in June.

Dr. Earle Show #3.
"The School to Prison Pipeline." Here Dr. Earle will describe how this system works and will offer navigation and coping tools and skills that will help children and adolescents get off and stay off of the road to destruction and prison.