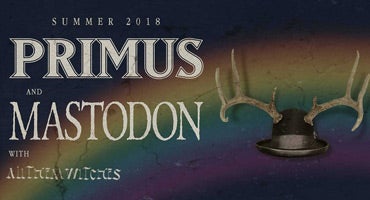 Fri, May 18, 7:00pm
$42.50 plus applicable fees

Don't get ripped off! The Scope Arena Box Office and Ticketmaster are the only authorized sellers of tickets.

SevenVenues is not responsible for tickets purchased anywhere other than Ticketmaster or through the Scope Arena Box Office and will not honor, exchange, or refund counterfeit, duplicate, or invalid tickets.

Ticket prices are subject to change.
Fri, May 18, 7:00pm
Primus, Mastodon and All Them Witches
Due to structural concerns at Union Bank & Trust Pavilion, Primus, Mastodon and All Them Witches will now perform in Chrysler Hall on Friday, May 18 at 7PM. Previously purchased tickets will be honored. Anyone wishing for a refund for this show may return to the original location of purchase prior to the performance date. Please visit the Union Bank & Trust Pavilion at www.pavilionconcerts.com for more information.

Primus, one of the most distinctive and innovative bands of the past twenty years, is the rocking San Francisco trio of Les Claypool, Larry "Ler" LaLonde and Tim "Herb" Alexander. Primus is an influence on the nu-metal genre bands such as Deftones, Korn, Limp Bizkit , and Pleymo. Other bands that Primus have influenced include Muse and Incubus. The band has enjoyed main performer status in many of the important music festivals since 1992.
The band's discography has multiple notable achievements: "Frizzle Fry" in 1990 won a Bammie (Bay Area Music Award), "Sailing The Seas Of Cheese" went Platinum in 1991, as did "Pork Soda" in 1993. "Tales From The Punchbowl" in 1995 earned Gold status. "Wynona's Big Brown Beaver" in 1996 received a Grammy Nomination for Best Hard Rock Performance. Last year, "Sailing The Seas Of Cheese (Deluxe Edition)" was nominated for a Grammy Award for Best Surround Sound Album.
Mastodon is an American heavy-metal band from Atlanta, formed in 2000. Their musical style features progressive concepts and unique instrumentation. Mastodon has released seven studio albums, as well as a number of other records. "Leviathan" is a concept album based on the novel Moby Dick, and three magazines awarded the record Album of the Year in 2004.
The song "Colony of Birchmen" from the band's 2006 third album, " Blood Mountain ," was nominated for a Grammy Award for Best Metal Performance in 2007. "Crack the Skye" in 2011 and "The Hunter" both achieved major commercial success in the US, debuting at No. 10 on the Billboard chart. "The Hunter" features the song " Curl of the Burl," which was nominated for a Grammy forBest Hard Rock/Metal Performance in 2012. Mastodon's 2014 album "Once More 'Round the Sun " peaked at No. 6 on the Billboard chart and features the band's third Grammy-nominated song, " High Road." The band's seventh album " Emperor of Sand" features the band's most commercially successful song to date, " Show Yourself ," peaking at No. 4 on the Billboard Mainstream Rock chart. The followup single, "Steambreather," peaked at No. 18 on the same chart. The album's opening track "Sultan's Curse" became the band's fourth Grammy-nominated song. "Emperor of Sand" is the band's first album to receive a Grammy nomination, for Best Rock Album.
All Them Witches from Nashville consists of drummer Robby Staebler, vocalist, bassist, and guitarist Charles Michael Parks, Jr., guitarist Ben McLeod, and keyboardist and violinist Allan Van Cleave. All Them Witches' debut album "Our Mother Electricity" was released in 2012, followed by their EP, "Extra Pleasant," which was recorded with two microphones directly to a tape recorder. In 2013, the band's second studio album, "Lightning at the Door," was originally released. In 2015, the band released "Dying Surfer Meets His Maker" as well as the official live album "At The Garage." Their fourth studio album "Sleeping Through the War" was released in February 2017.