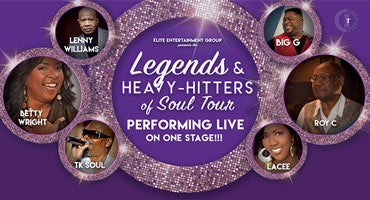 Sat, Oct 13, 8:00pm
$40 - $75 plus applicable fees

Don't get ripped off! The Scope Arena Box Office and Ticketmaster are the only authorized sellers of tickets.

SevenVenues is not responsible for tickets purchased anywhere other than Ticketmaster or through the Scope Arena Box Office and will not honor, exchange, or refund counterfeit, duplicate, or invalid tickets.

Ticket prices are subject to change.
Sat, Oct 13, 8:00pm
Legends & Heavy-Hitters of Soul Tour
presented by Elite Entertainment Group
Performing Live On One Stage: Big G, Lenny Williams, TK Soul, Lacee, Betty Wright, and Roy C - one night only!

BIG G
Big G is a Southern Soul Recording Artist, born in Charlotte County VA and now resides in Richmond Virginia. In grew up listening to all types of music but Southern Soul Music made him what he is today. He released two CDs before his first big single, "Hot Loving", which still packs the dance floors today.

Influenced by such artist as Clarence Carter, Percy Sledge, Tyrone Davis and Roy C, he started singing old school R&B back in the 1970's. Big G's proudest moments have been sharing the stage with such artists as Bobby Blue Bland, Shirley Brown, the Late Mel Waiters, Clarence Carter and Roy C.

One of God's precious gifts given to Big G is being able to write and create his own music. Stone River Records is proud to be apart of Big G's journey as he continues to grow in the music industry and looks forward to what is yet to come.

LACEE
Sweet, Soulful, Songstress Lacee has captivated audiences far & wide with her powerfully melodic vocal abilities. With a prowess for performance matching the likes of a well versed veteran; Lacee's talents are matched only by her magnanimous voice.
Born Lacy Yvonne Reed, in Memphis, Tennessee, the American Soul, R&B artist is the only child born to Reverend Joe Reed and Joann Reed. First introduced to what would soon become her life's passion; Lacee like many successful artists before her, began her journey towards super-stardom in the church. Raised in the Deep South, and singing with her mother in church, Lacee is the epitome of a true Southern Belle, with all her charms. Her voice resonates with a classic elegance infused with a flair for today's R&B chic; paired with Lacee's boisterous & lively persona, you have a formula fit for food to the soul. Her influences in music come not only from home, but also from the likes of Patti LaBelle, Gladys Knight & Aretha Franklin.
After signing with Advantage/Soulful Sound IMG Recordings, Lacee released her first studio album, "Songstress" in May 2006 which was met with enthusiastic reviews. Despite, her tumultuous performance schedule, Lacee was eager to get back into the studio and immediately began working on her follow up album, "Lacee's Groove" released July 2009. Jumping from one project to the next, Lacee always finds time to pay tribute to those who have inspired her musically and covered Aretha's "Dr. Feel Good" in homage to the Queen of Soul all whilst placing a new spin on a classic hit.
Having begun her musical journey in the church, Lacee's talent has remained true to its roots as she was blessed with the opportunity to share the stage with gospel legend Shirley Caesar and Singer-songwriter Smokie Norful. Her powerful voice carrying her across the nation, she has also performed alongside notable legends such as Bobby Womack, Glenn Jones, Howard Hewitt & Lenny Williams. More recently, Lacee was given the opportunity to share the stage with Tyrese, Lebrado and R&B Prince of Soul Calvin Richardson.
Currently working on completing her latest project "Beautiful", Lacee is prepping for the official release its first single "Call Me". With the highly anticipated project on the cusp of its release date, Lacee is set to tour throughout the Southeast beginning early 2015 until the summer. With her commanding voice that has the impeccable ability to appeal to a multi-genre audience, she is a versatile artist with an equally diverse fan base. Lacee is a soulful songstress… with the heart and depth to captivate the soul of the listener.

LENNY WILLIAMS
Leonard Charles Williams (born February 16, 1945) is an American singer-songwriter and musician, best known for his work during the 1970s. Williams was the lead vocalist for R&B/Soul group Tower of Power. As a soloist, Williams made several hit recordings, including 1978's "Cause I Love You" and 1977's "Choosing You".
Williams was born in Little Rock, Arkansas, and moved to Oakland, California, at a young age. Learning to play the trumpet in elementary school fueled his interest in music; his skills as a vocalist were first nurtured by singing in gospel choirs and groups around the Bay Area. He worked with several notable artists, such as Sly Stone, Andraé Crouch, Billy Preston and members of the Hawkins family, Edwin, Walter and Tramaine.
After winning several local talent contests, Williams signed his first recording contract with Fantasy Records. In 1972, Williams joined the emerging funk band Tower of Power. A string of hits followed, including "So Very Hard to Go", "What Is Hip", "Don't Change Horses (In The Middle of the Stream)" and "Willing To Learn".
While still with Tower of Power, he recorded his first solo album Pray for the Lion for Warner Bros. Records in 1974. At the end of 1975, Williams left the band and returned to his solo projects. Over the next four years, he scored ten chart hits. Williams recorded four more albums from 1977 to 1980: Choosing You, his first gold LP; Spark of Love (contains the hits "You Got Me Running", and "Cause I Love You"); Love Current; "Taking Chances" and Let's Do It Today.
After leaving MCA, Williams recorded for the independent record labels, Rockshire and Knobhill. In 1986, he was invited to sing vocals on "Don't Make Me Wait For Love", a track from Duotones, a multi-platinum recording by Kenny G. The song became a Top 20 Billboard Hot 100 and R&B hit the following year.
Since that time, Williams has continued his solo career, touring the US, Europe and South Africa, and has also expanded his career to include acting, starring in several stage plays, including Love on Lay Away, What Men Don't Tell, and When A Woman's Fed Up.

ROY C
Roy C relocated to New York City in 1956, and to South Carolina, 1988. He performed with a group called the Genies, 1957-1964. He branched out in 1965 and gained a new title Roy "C". He is the founder of Johnson- Hammond, (Publisher), Alaga Records, Three Gems, and Carolina Records Distributors. Roy "C" produced the Mark IV, Dennis Edwards (ex Temptation), Chuck Roberson, and J Hines & many others. Janet Jackson, Shaggy, Nas, 2Pac, Run DMC & others sampled Roy "C"'s beats.
Roy C Hammond, known as Roy "C" is a legendary R&B singer with talents that far exceed the moderate attention since he started back in 1957. He scored minor hits, "Who's that Knocking" 1959 and "That Shot Gun Wedding Man" 1965. His first release on 45's, 1965. Roy "C" has been on labels including Smash, Black Hawk, Shout, Alaga, Mercury, and Three Gems. He also recorded a single called "I Want to Marry You as Little Frankie", 1973.
Roy "C" composed most of his recordings and has more than 150 titles to his credit. Roy "C" has performed on stage with many great artists, The Heart Beats, Tyrone Davis, Clarence Carter, Marvin Sease, Dennis Edwards, Lee Fields, Buddy Johnson Band, Don Covay, Percy Sledge, Jay Hines, Bobby Womack, Millie Jackson, Wilson Pickett, Betty Wright & many others.
Since the late 50's to present, Roy "C" is still gaining credit on his music. Roy C publish and writes his own music. He Thanks the Creator, Fans & Family!
T. K. SOUL
Contemporary soul singer T. K. Soul has built a loyal grassroots following for his music that mixes R&B traditions with modern-day attitude and hip-hop accents. T. K. Soul was born Terence Kimble in Winnfield, Louisiana on August 26, 1964. From a young age, Kimble had a keen ear for music, and soaked up the influences of soul, funk, and R&B artists ranging from Stevie Wonder, the Jackson 5, and Al Green to Maze, Rick James, and Prince. When he was ten years old, Kimble picked up a guitar, and discovered he could easily play it by ear. Before long, Kimble was also playing keyboards, drums, and bass, and by the time he was in junior high, he had already been recruited to play in the local high school's band. Music became the dominant force in Kimble's life, as he juggled gigs with school bands, church choir, and local R&B acts. After a painful breakup with his girlfriend, Kimble began writing songs, and while DJ'ing at clubs and parties, he began singing his own songs during breaks. Kimble began looking for a record contract, but his inexperience in the music business kept him on the sidelines for close to a decade. Kimble began touring with R&B and funk acts as a sideman, and while performing with the band Under 21 (who would later record for Motown under the name Profyle), he was scouted by the manager of the successful Houston-based vocal group H-Town. Kimble signed on to play keyboards with H-Town, while writing songs in his spare time.
After his run with H-Town ended, Kimble went back to the church for a few years, serving as a musical director at house of worship. Kimble returned to the road when he was hired to play keyboards for soul-blues singer Willie Clayton, and soon Clayton was recording some of Kimble's material, including "Wiggle in the Middle" and "Party Like We Used To." After five years with Clayton, Kimble decided it was time to strike out on his own. Adopting the stage name T. K. Soul, he cut his solo debut, 2002's One Woman Man, and released it through his own label, Soulful Records. One Woman Man and Soul's 2003 follow-up, The Bad Boy of Southern Soul, helped generate a buzz about T. K. on the soul-blues circuit, and 2004's Love Games was a breakthrough that generated several regional hits for him, including "Cheating and Lying" and "You Ring My Bell." His next album, Undisputed, rose to number 85 on the R&B and hip-hop album chart, and peaked at number nine on the blues album chart. The Evolution of Soul followed in 2009, as Soul continued to fill nightclubs and play festivals and theme cruises as a powerful live act. Soul also expanded his Soulful Records label, signing other artists such as Magic One, Nikita, and Rhomey. Despite his busy schedule, T .K. remained prolific in the 2010s, releasing Ghetto Superstar in 2013, Life After Love in 2014, and The Legacy in 2016.

BETTY WRIGHT
Betty Wright began singing with her family gospel group at age three. By 13 she had released her first secular record. By 13 she had her first top 40 hit with "Girls Can't Do What Guys Do." And for her 18th birthday, she received her first gold record. Yes, "Clean Up Woman" was a certified smash. It would go on to sell more than six million copies worldwide and earn her a nickname she wouldn't soon live down.
Already beginning to be hailed as The Queen of the Miami Sound, a blend of music described as Caribbean-infused funk, Betty began traveling the globe with a hastily assembled band called The Clean Up Men. The hits continued as well. Betty would go on to rack up another dozen top 40 R&B hits before the close of the decade, as well as pick up a Grammy for cowriting the R&B Song of the Year in 1975 - her own "Where Is The Love" - and a Platinum Disk for the release of her Live Album in 1978, which included one of her most popular tunes, "Tonight Is The Night."
It's no surprise that her live album was the biggest seller of her career to date, for her reputation as a master showman was well known. Variety said her stage show offered audiences "...pleasure - of the sort that lasts and reverberated," and in 1979, JET said people were talking about "why Betty Wright can't help feeling like the Clean Up Woman in the best sense of the name," when her tours that year grossed more than $800,000.
But as the 80's began, Alston Records - Betty's recording home since 1968m - was going under. Betty switched to Epic for two albums, working with such producers as Stevie Wonder and Marlon Jackson. She also released the controversial duet "She's Got Papers on Me," with Richard "Dimples" Fields on Boardwalk Records. The song went Gold and even made it to U.S. News & World Report under the headline, "Flack Over a Rap." The 80's, however, were a strange time for soul music. After her stint at Epic, Ms. B searched for another label and found no one interested. She took a brief hiatus from the business and then did the only thing left to do. She established Ms. B Records and Productions, Miami Spice Music Publishing and High Place Recording Studio. She signed several local artists, but not surprisingly, the emphasis remained on reviving her career.
She did so quite nicely in 1988 when the single "No Pain, No Gain" raced up the charts. The album it came from, "Mother Wit," marked the first time a female recording artist had gone on her own label. She followed up with two more albums, "4U2NJOY" and "Passion and Compassion" before ushering in the 90's.
By now, Betty's earlier music was back in big time circulation, released on dozens of compilation CD's and being sampled endlessly. Betty was touring in Europe with a friend and vocal student, Gloria Estefan, when the film "New Jack City" was released. It contained a song called "I Wanna Sex You Up," which included not only Betty's voice from the live recording of her own, "Tonight is the Night," but elements of the melody and bass line as well. Betty took the matter to court and walked away with a 35% royalty right to the song. Of course, Color Me Badd wouldn't borrow one of Betty's tunes and use it in one of theirs. Rappers Candy Man, Tupac Shakur, Snoop Dogg and others all followed suit. Betty herself wasn't recording much at the time, but she was staying busy. In the studio, she produced folks such as Ronnie Laws, Millie Jackson, Rita Marley and Cedella Marley Booker, offered vocal production as well as backing vocals to friends such as Regina Bell, Phyllis Hyman, and Jon Secada, and toured the world with pal Bruce Willis, helping him open a chain of restaurants called "Planet Hollywood" across the globe.
By the start of the new millennium, Betty was eager to record on her own again. Inspired by the rebirth of soul music, brought about by such acts as D'Angelo, Erykah Badu and others, Betty began work on her 17th album. She also took time out in 2000 to be honored by the Rhythm and Blues Foundations with a Pioneer Award.
She continued to tour and to "cause flack." One of her latest singles, "U R A HO," which she wrote after reading the 23rd chapter of the book of Ezekiel, was banned in some markets. Undeterred, she continues to do it her way. In 2001, while preparing for the release of her album, Betty continued to collaborate with friends like Sean "P-Ditty" Combs and Michael Jackson on theirs.
Now, in 2002, Betty has finally released her long awaited new project. "Fit for a King" contains 15 tracks all written and produced with her longtime partner Angelo Morris. The CD leaves no doubt that Betty's message and delivery are as timely and cutting edge as "Clean Up Woman" was 30 years ago. Yes, Ms. B is still cleanin' up
Event Dates
Related Links