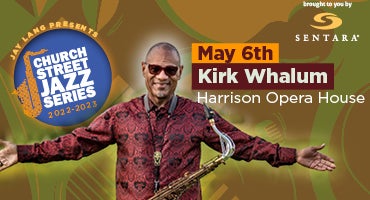 Sat, May 6, 8:00pm
Starting at $50

Don't get ripped off! The Scope Arena Box Office and Ticketmaster are the only authorized sellers of tickets.

SevenVenues is not responsible for tickets purchased anywhere other than Ticketmaster or through the Scope Arena Box Office and will not honor, exchange, or refund counterfeit, duplicate, or invalid tickets.

Ticket prices are subject to change.
Sat, May 6, 8:00pm
Kirk Whalum
Church Street Jazz Series
Memphis-born saxophonist Kirk Whalum has continually drawn inspiration from the rich musical traditions of that city, including gospel, R&B, blues, and jazz. Whalum, who has drawn comparisons to artists like John Coltrane and Grover Washington, Jr., has gained acclaim for his cross-pollinated sound, topping the contemporary jazz chart with 1998's For You and winning the Grammy for Best Gospel Song for "It's What I Do" off 2011's The Gospel According to Jazz: Chapter III. He has also recorded with icons like Luther Vandross, Al Green, and Whitney Houston (playing on her classic "I Will Always Love You" off The Bodyguard soundtrack). Along with working as a member of the smooth jazz trio BWB, he has remained connected to the R&B world, covering the songs of artists like Babyface, Donny Hathaway, Stevie Wonder, and others. He celebrated his love of gospel with 2017's #Lovecovers and collaborated with an international cadre of performers, including Keiko Matsui and Marcus Miller on 2019's Humanité. In 2021, he released his second holiday album, How Does Christmas Sound?.
Born in 1958 in Memphis, Whalum grew up singing in the choir at Olivet Baptist Church, where his father, Kenneth Whalum, Sr., was a pastor. Influenced by his musical family, including his grandmother, a piano teacher, and two jazz musician uncles, Whalum started playing the drums before switching to saxophone. Along with playing in church, he was a member of his school concert and marching bands, and listened to a steady mix of Stax soul, gospel, and jazz LPs. He received a scholarship to attend music school at Houston's Texas Southern University, where he formed a band in 1979 and began playing shows on the local club circuit. When he opened for Bob James in Houston in 1984, the pianist was impressed with Whalum's expressive style, and invited him to play on his album 12.
In 1997, Whalum signed with Warner Bros. His first solo album on Warner's tab, Colors, was released that same year, and perhaps more than any other album, showed Whalum's ability to synthesize music from a variety of sources to produce a fusion of pop, jazz, and R&B. The following year, Gospel According to Jazz exhibited his ability to return to the music of his childhood stylistically, while also pursuing the kind of spiritual depth that has a long history in jazz, echoing artists like John Coltrane in taking advantage of the saxophone's unique expressive qualities.
The decade also brought Whalum an amazingly diverse series of session and touring jobs, working with artists like Luther Vandross, Al Green, Peabo Bryson, Babyface, Yolanda Adams, Take 6, Bebe & Cece Winans, Barbra Streisand, Edwin Hawkins, Quincy Jones, and Kevin Mahogany. In addition to his solo albums, Whalum worked on a number of film scores, including those for The Prince of Tides, Boyz 'n the Hood, Grand Canyon, and Cousins. His sax solo was featured on Whitney Houston's wildly popular single "I Will Always Love You," on the soundtrack for The Bodyguard.
For 2019's Humanité, Whalum pursued a global approach, recording with British producer James McMillan in a variety of locales from Jakarta and Tokyo to Paris, Johannesburg, Nairobi, and elsewhere. Included on the album are collaborations with pianist Keiko Matsui, Indonesian singer Grace Sahertian, South African vocalist Zahara, bassist Marcus Miller, and others. His second holiday-themed collection, How Does Christmas Sound?, arrived in 2021.
Event Dates
Related Links