The Attucks 100 Anniversary Celebration was held in 2019 – this portion of the website is dedicated to celebrating a century of venue history!
Discover a living landmark—
Norfolk's Historic Attucks Theatre
It started with a dream.
In 1919 Norfolk, Virginia, as in much of the rest of the United States, the African American population was growing and becoming more prosperous. In the face of that, and in keeping with a long tradition of oppression, there was also a marked tendency to segregate races in all public places. Although segregation in places of public entertainment was not written into the law of Virginia until 1926, society in the Old Dominion was moving in that direction much earlier. The Attucks Theatre symbolizes the African American community's attempt to deal with that reality.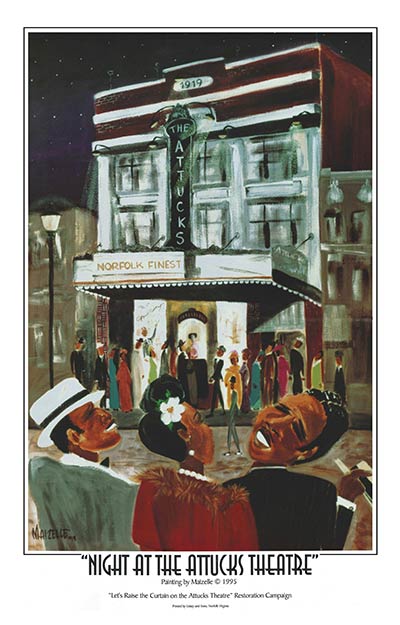 For a group of African American businessmen from Norfolk and Portsmouth, the combination of the growing need and harsh reality was a problem to be addressed. Their vision was to develop a cultural center in the heart of a minority community where patrons would be treated with dignity and respect. They called themselves the Twin Cities Amusement Corporation.

The new corporation sought funding for the new theater from two African American-owned financial institutions in Tidewater, the Brown Savings Bank and Tidewater Trust Company. Situated in the center of a concentrated area of African American-owned businesses and homes, the Attucks Theatre building was designed to accommodate not only the motion picture theatre, but also various retail shops and offices for realtors, doctors, insurance agents, and dentists.

They selected as the architect for the new structure a 25-year-old African American man, Harvey N. Johnson, and working together, this coalition of visionaries built what was then a state-of-the-art theater. They proudly named the new building for Crispus Attucks, the first casualty of the American Revolution, a man of African and Native American descent who was the first one killed in the Boston Massacre of 1770. Built in 1919, it was a grand and beautiful building, housing a 600-seat theatre with elaborate balconies, state-of-the-art lighting, an orchestra pit, and a signature stage curtain with a scene depicting Crispus Attucks' death.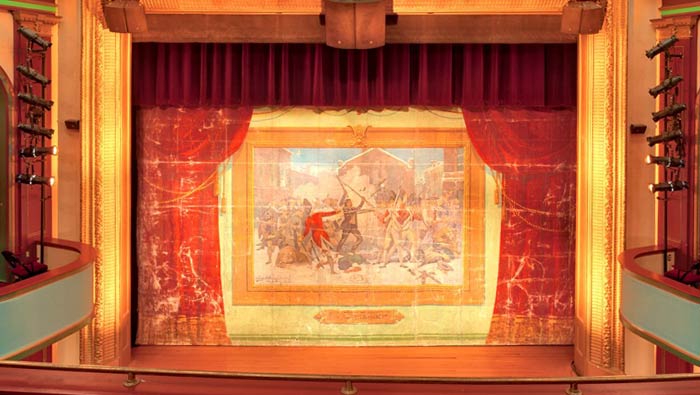 Today, the Attucks stands as a monument to the vision and indomitable spirit of its founders and the community it was created to serve, the only remaining theatre in the United States that was financed, designed and built exclusively by African Americans.